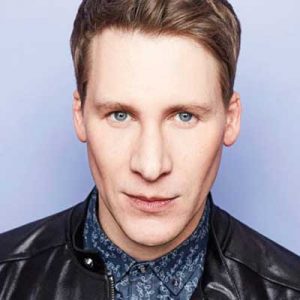 Dustin Lance Black
Academy Award®-winning filmmaker, writer, and social activist
Notable works: Milk, 8, When We Rise

Throughout my career, most of the work I've created has been for the screen.
Making a movie or TV show takes time — sometimes a really long time. But in 2011 when I wrote 8, a play about the courtroom battle for same-sex marriage equality in the United States, time was exactly the luxury that we didn't have.
When the judge decided not to allow cameras to film the crucial Perry v. Schwarzenegger case —the California trial that led to the overturning of Proposition 8 — I knew I had to find a way to make what happened in the courtroom visible to a wider audience as soon as possible. The judge ruled in favor of the plaintiffs, making gay marriage legal in the state once more, but soon after, an appeal was launched. This was just the start of the battle. We knew that the eventual decision at the Supreme Court would determine the legal status of gay marriage across the country.
I decided to use theater to try to make a significant impact on the issue as quickly as possible, because we couldn't wait around for something to get greenlit, shot, and distributed. We needed to get it out there almost as soon as I'd hit "save" on the final draft, and only theater would let us move at that speed and scale.
We needed to get it out there almost as soon as I'd hit 'save' on the final draft, and only theater would let us move at that speed and scale.
Disruptive distribution tactics of 8
Throughout 2012 more than 40 nationwide productions of 8 were scheduled across 17 states by the American Foundation for Equal Rights (AFER).
Productions were followed by a talkback where cast and audience members discussed the issues presented in the Perry v. Schwarzenegger trial. 
The play was licensed free to colleges and community theaters, and readings took place in states  where gay marriage legal issues were in play, including New Hampshire, North Carolina, Maryland, and Maine. Other readings were scheduled at universities including Stanford and the University of North Carolina, and at theater companies across the US.
Potts, Kimberly. "Dustin Lance Black Gay Marriage Play '8' Going on Tour." Reuters, 17 Jan. 2012.
8 tells the story of the plaintiffs as they fought to win marriage equality. As I was one of the four founding members of the American Foundation for Equal Rights (AFER), the organization that brought the case to court in the first place, there was a more urgent need for 8 than anything I'd ever done before. It was written purely to make the case for marriage equality in the United States, making it one of the most impact-focused works of my career.
At the time, most material on the subject of same-sex marriage was presented in pamphlets or on TV. This content simply echoed the subjective views of the people who made it. During the trial, the argument took place in a different arena, with different rules. For the first time in the debate, both sides had to raise their right hands and promise to tell the truth, the whole truth, and nothing but the truth. What happened in that courtroom was incredibly emotional and dramatic; it was hard to sit there and not feel like banning same-sex marriage was inherently wrong. I wanted to use theater to transport people into that courtroom, so that they could feel that way too. The challenge was to do this without the opposition being able to dismiss my version of events. I needed to be able to say: "This is what happened in court, and if you don't believe me, go and check the transcripts."
So that's where I started. Every time I got on an airplane I took a binder of court transcripts and just started redacting, cutting things down. The final script that I wrote wasn't verbatim, otherwise it would have been a three-week-long play, but I still wanted it to be authentic and full of specific detail that would pique the audience's interest. In short, it would make them feel like they'd sat through the entire trial in 90 minutes.
Emotional engagement is one of the key things that makes theater an effective tool for creating empathy, and through that, impact. People go to the theater to feel things, and at one point in the writing process I realized I needed to make 8 more personal. So I interviewed the plaintiffs and their kids, and added interstitial scenes where we could meet these characters outside the courtroom. This was essential, because when you really get into the details of how people live their lives under circumstances that are very different from your own, you start to see the light of universality. You start to see humanity.
To maximize our reach, the performance was also streamed live on YouTube and later released as an audiobook.
Livestream viewers
The livestream reading of 8 featuring George Clooney, Brad Pitt, Martin Sheen, Kevin Bacon, Jane Lynch, Jamie Lee Curtis, and directed by Rob Reiner, attracted 200,000 viewers.
The Supreme Court's final ruling was going to affect every state in America, so I wanted 8 to be performed in as many of them as possible. We knew that the judges didn't live in bubbles: they read newspapers, watched television shows, and were aware of public opinions, so if there was anything we could do to make this decision simpler for them, it was worth a try.
My friend Richard Socarides — whose father, Charles Socarides, was the psychiatrist who came up with the entire notion that being LGBT was a mental illness — encouraged me to write 8 for free for Broadway Impact, an organization that has been using the theater to raise money for HIV/AIDS since 2009. Not only would all the money it made go to LGBT causes, but with their network of contacts there was a chance we could get it to play across the entire country. It seemed like a fantasy, but it was worth a shot.
Broadway Impact turned out to be the best producers I've ever worked with, because everything they promised came true. The New York reading of 8 raised over $1 million and with their assistance we were ultimately able to bring the show to all 50 states. On March 3rd 2012, we arranged a special one-off reading at LA's Wilshire Ebell Theatre, directed by Rob Reiner and with an all-star cast that included George Clooney, Brad Pitt, and Jamie Lee Curtis. To maximize our reach, the performance was also streamed live on YouTube and later released as an audiobook. On the night, the livestream drew an audience of 200,000 viewers, and by the end of 2018 the video had been watched over 950,000 times, accruing almost 10,000 "likes" in the process. 
Between the show itself and donations from online viewers, the Wilshire Ebell performance raised a further $2 million for our cause.
The show ended up traveling far beyond the US; the last time I checked, the play had also been performed in eight other countries — notably in Australia, where it was recently used in support of another national battle for gay marriage equality. In the end, the most triumphant impact of 8 was in the US where we eventually won our battle. The US Supreme Court legalized same-sex marriage in June 2015, making gay marriage a reality across the entire nation.
Marriage Equality Timeline
This timeline juxtaposes the percentage of Americans who believe gay marriage should be legal, with significant events in gay rights history, and the release of notable film, TV, and theater projects depicting gay characters.
No matter which medium I work in, I strive to write stories that will correct the misconceptions we have about people of diversity. It's my firm belief that if we can clear out all that still divides people today, we can start to see what we have in common instead. This is yet another reason why detail is simply crucial for a good story — because in detail lives authenticity, authenticity cultivates curiosity, and curiosity can help you to build the audience that these works deserve.