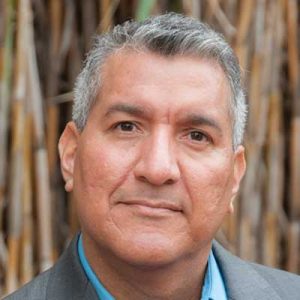 Richard Ray Perez
Director of Creative Partnerships, Sundance Institute's Documentary Film Program
At Stories of Change (SOC), we don't believe social impact happens in a vacuum.
It's generated by a larger ecosystem involving multiple players: storytellers and filmmakers, philanthropists and the private sector, community organizers and activists. At its most effective, change happens when these players work together to address an issue.
Stories of Change is a partnership between Sundance Institute and the Skoll Foundation. We support collaborations among independent storytellers working in nonfiction, fiction, and emerging storytelling platforms — like VR and AR — and social entrepreneurs. The goal is to create independent media projects and support the life cycle of the project from inception to impact through grants and strategic advice. It's a collaborative model that leverages the respective talents of the filmmaker and the social entrepreneur. The idea is that the filmmaker tells a great story and the social entrepreneur takes that story and integrates it into their work, using the power of independent film to move the needle on their issue.
This process starts at key convenings around the world and then throughout we provide the guidance, advice, mentorship, and sometimes additional funding to ensure the creation of high-quality storytelling projects that have an impact on the pressing issues of our time.
Today, we understand the power of storytelling better than ever before. We have seen how it can be a force for good, and we have seen its dark side in the fake news circulating on social media before the 2016 election. Yet many content creators are still far removed from the problems on the ground, while the changemakers embedded in the issues are often unaware of the true power of independent storytelling. Our program is an intentional effort to remedy this. We close the gap between those working in entertainment, and the lived experience of the people affected by a social issue. We strive to deliver social impact with a community rather than for a community.
Many storytellers also have a limited understanding of the different uses of social impact media, specifically independent film and entertainment. For example, there are many different types of change you can drive, from shifting public opinion, to influencing new policies or legislation, to creating changes in behavior. Each of these has its own timeline, and has different challenges and opportunities.
At the same time, many social entrepreneurs working on complex issues do not grasp how entertainment can intervene in culture and society. They may not recognize that an independent film has value that's deeper and more lasting than media created for marketing or fundraising. And if social entrepreneurs do recognize that value, they may still lack the knowledge, capacity, and skill sets to harness it.
Stories of Change
Stories of Change supports the creation of film and media projects inspired by the work of renowned social entrepreneurs, and builds a network of independent storytellers and Skoll-Awarded Social Entrepreneurs. Since 2008, the initiative has provided funding and development support for many independent documentary film projects by award- winning filmmakers. In 2015, Sundance Institute and Skoll Foundation established the Stories of Change Content Fund to support a new generation of narrative film and interactive, transmedia, and nonfiction projects.
"Stories Of Change Dashboard." Sundance Institute, 2019,
While initially focused on supporting feature documentaries, we've expanded the Stories of Change application process to accommodate different formats. I call this responsive approach "cultivating the emergent," and it has yielded promising results. One example is The Legend of the Vagabond King of Lagos, a rags-to-riches thriller shot in a Lagos slum. This scripted film is a micro-budget production with a Nollywood ethic, in part because the filmmakers wanted to ensure that it would appeal to the very community that it portrays. It seeks to embed the voice of its subjects, emphasizing their humanity and dignity, and it has a clear political purpose as well: to halt the Nigerian government's policy of forced slum evictions.
Filmmakers alone would struggle to achieve this impact, even with the best intentions in the world. It is up to us, as a program, to help coordinate the various players involved — from the community affected by the change, to the activists and decision-makers in the region; from the impact producers, to the international audience that can help influence Nigerian government policy.
Alongside fictional treatments like these, we carry on telling factual stories. With The Pushouts, a documentary about a former Oakland gang member-turned-university-professor, we aligned the filmmakers with YouthBuild — a nonprofit that has helped thousands of young Americans from low-income families acquire job skills and employment after having dropped out of school. The collaboration is part of a powerful social impact campaign that uses the film to engage and train YouthBuild participants and alumni.
Stories of Change organizes three main convenings throughout the year. Each is predicated on the assumption that, by working together, independent storytellers and social entrepreneurs can reach wider audiences and find pathways to a better world. The first convening takes place at the Sundance Film Festival. Here, we work to support the creation of compelling film and media projects by bringing independent filmmakers into direct dialogue and partnership with Skoll-Awarded Social Entrepreneurs. The goal is to build a network of storytellers and entrepreneurs, to enhance story skills, and to promote the exchange of knowledge within our community.
We adopt a similar approach at the Skoll World Forum — a yearly gathering, hosted at University of Oxford's Saïd Business School, that brings together social entrepreneurs, renowned thought leaders, and impact partners from across the globe. Our convening here is an intensive, day-long event where entrepreneurs workshop with filmmakers from the Sundance Institute. The goal is to see how both parties might form lasting connections and collaborate in service of social impact.
Finally, there's the Art, Impact and Strategy Lab, an intensive four-day event that takes place at the Sundance Resort. We invite selected project teams that have received SOC grants to co-vision their project and work through its storytelling and creative components. We also assign an advisor to each team to help them work through specific challenges. This could mean anything from addressing divergent ideas for the story to sourcing an impact producer to help map out the social impact campaign.
Social change is a complicated process. It typically does not follow a linear trajectory or formulaic models. There's no one-size-fits-all approach. Our experience has taught us this much. But one thing is certain: authentic, well-told stories — the kind of storytelling Sundance Institute has championed from our inception — can be transformative. But that work doesn't happen alone. When part of an ecosystem of change, working with changemakers with vision, storytellers and artists can give the audience an experience that is transcendent and transformative. Social impact entertainment can do that.