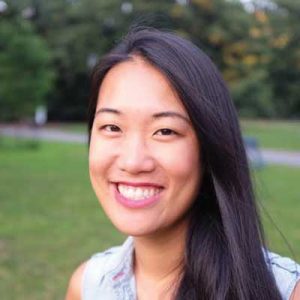 Samantha Wright
Managing Director of Impact at Exposure Labs
Exposing the issue
The challenge with telling stories around big, complex subjects like climate change is getting beyond the reports, numbers and graphs. You need to make it visually coherent so people can connect the dots and understand the issue. My role at Exposure Labs is to empower people to do that: to be visual, to experiment, and ultimately, to help expose those difficult, entrenched issues. To do this we use an iterative approach, allowing ourselves to make mistakes, to learn, to grow, and to change.
At Exposure Labs we have a simple but ambitious mission: to solve problems through film. We think one of the biggest issues in the US right now is a lack of political will to act on climate change at the speed we need. In response, we make films that highlight specific aspects of the much larger problem — from the melting of the northern ice caps in Chasing Ice to the destruction of coral reefs worldwide in Chasing Coral. Then, through strategic, local partnerships, we arm audiences with images that help them break down these complex issues. This allows the films to instigate change at a local level. If you try to address a global audience about this type of issue, a lot of the message can be lost. By focusing on a region, a state, or even just an individual lawmaker, you can get real-world results that can then be scaled up to make a big difference.
Chasing Ice, driving change
We learned a lot from Chasing Ice. The 2012 documentary initially sought to simply show viewers what was happening in the Arctic Circle, but we were overwhelmed with the response and it became the centerpiece for a much more dynamic campaign.
This was when we began to focus on the hyperlocal. We'd been hearing that there were elected officials across the US who believed in man-made climate change, but lacked the political cover to go public with their views. Representative Bob Inglis (R-SC) was unseated in 2010 for just this reason. We knew that if we were going to shift skeptical policymakers we would have to convince their voters. So, we decided to micro-target one district and one congressman: Pat Tiberi, a climate change denier in Ohio. We had this idea that 50 screenings in one place, in one community, could go so much further than 50 around the world — and this proved to be right. After six weeks, Congressman Tiberi in Ohio ultimately shifted his position acknowledging that climate change is a man-made problem, and eventually joined the bipartisan Climate Solutions Caucus, working with other representatives to address the risk of climate change.
As we supported Chasing Ice in communities around the world, our screenings became more than just basic Q&As. We curated different aspects of the experience — from sending out the invitations, to mediating the discussions, to designing the environments. In key test audiences, we also conducted exit surveys to measure the shifts in mindsets during our events, basing our method on the "Six Americas" framework from the Yale Program on Climate Change Communication. On average, climate change skeptics accounted for 37.5% of our audiences; following screenings, these self-identified skeptics left feeling either "cautious" or "concerned" about climate change. One woman even came to a screening with the specific aim of heckling us, and 90 minutes later she was a convert!
Chasing Coral, building on success
The approach to engagement for Chasing Coral was based on our learnings from Chasing Ice. After evaluating the successes of the campaign, and where things could have been done differently, we decided to change it up a little. With Chasing Ice our effort was centered around the one experiment we ran in that district in Ohio, so for Chasing Coral we focused on a wider area in the Southeast. Again, we were driven by a desire to iterate, to try new things and see what worked. But whereas before we had just one experiment, now the plan was to run a whole series of them across the region, varying our approach from screening to screening.
For our 2018 work for Chasing Coral, we ran three local campaigns, each targeting different levers of systems-level change: mobilizing voters, inspiring young people, and shifting policymakers. In Atlanta, Georgia, we mobilized voters in time for the 2018 midterms, using screenings across the city to get to hard-to-reach audiences. In South Carolina, we partnered with the Charleston County School District, using the film as a launchpad for an entire semester of learning that inspired young people to take ownership of our impact on the environment. A separate campaign toured South Carolina across nine state house districts, using screenings and posters to build support for the state's faltering solar energy plans. By encouraging constituents to post messages on a dedicated website we set up, we were able to hold Republican representatives accountable to support clean energy policy in the legislative session.
Chasing Coral came out in 2017 and we aren't nearly finished with it yet. We've held over 1,500 screenings and the demand hasn't dropped at all, and this is partly because we've been willing to change the formula as we go. This sounds like a lot of work, but the ultimate goal of this approach is to create a set of refined learnings that will help others generate impact of their own. In support of this, Exposure Labs has launched "Unstoppable," a new project that draws from these lessons learned to build an open-source toolkit that will help other campaigners and filmmakers supercharge their climate work.
Lasting success
Both films are having an extremely long shelf life. Much of this is down to the homegrown activism that's built around the screenings as a result of that hyperlocal approach we've been taking. With Chasing Ice, we wanted to make sure it was fully accessible to all communities wherever it was showing, so the campaign contributed $100,000 toward ticket giveaways, which were made possible through a private grant. For Chasing Coral, we now have many partners who've helped us set up over 1,500 community screenings in more than 100 countries around the world.
The impact of our local strategy has been incredible, and it's been matched with impact at a global level, too. Chasing Ice was screened in over 172 countries and earned over $1.3 million at the box office. More than 15 million viewers have tuned into broadcasts on various networks, as of the end of 2018, the film's famous video of the calving glacier had reached over 55 million views. In 2016 the film even won the prestigious Doc Society Doc Impact Award in recognition of its impact on audiences. Fortunately, Chasing Coral is headed in the same direction, with impact donations from 39 countries and 30 awards from 72 festivals.
We've been humbled to show Chasing Ice at the White House, while Chasing Coral has been screened on Capitol Hill and at the UN Ocean Summit, among many other places. When your films are playing at venues like these, you know you have a chance of making a real difference — and with the power of local champions to back you up, there's nothing that can't be accomplished.
Spotlight on:
The Chasing Ice Ohio Tour
The Chasing Ice Ohio Tour saw the team at Exposure Labs concentrate their change efforts in one district: Ohio's 12th. The aim was to galvanize the public — through events, screenings, and by striking up local partnerships — and push Congressman Pat Tiberi away from his stance as a listed climate change denier, and toward accepting the reality of the issue.
According to the team orchestrating the campaign, the strategy was to flood the district with "Chasing Ice screening events, press and climate education for the public" with the goal being to "support the Congressman through his constituents and provide him with everything he needed to understand and embrace climate change science."
At the screenings in particular, local residents were afforded a platform to discuss the issues and, if they so wished, reach out to Congressman Tiberi to ask him to reconsider his stance on climate change. The campaign team asked attendees to write any statements, messages or questions to the Congressman to be shared on the web (and eventually on a dedicated website.)
The team spent close to three months planning and developing the tour, which included "writing proposals, researching Congressmen and congressional districts, developing educational language, creating a new constituent call to action, building a new website, and designing marketing and media materials."
After laying this groundwork, they traveled to central Ohio where their plans were put into action. They "booked screening events, built local strategic partnerships throughout the district with over 70 local groups, developed press and media connections, held meetings with the Congressman, and continued to develop the call to action in order to support the Congressman."
The concerted effort and hyperlocal focus paid off: on April 24th 2014, Congressman Tiberi released a statement acknowledging that climate change was an issue that needed to be tackled.