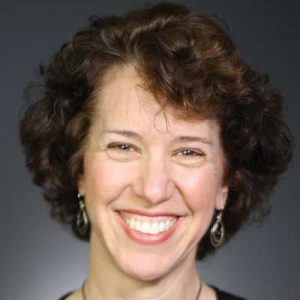 Sandy Herz
Director of Global Partnerships, Skoll Foundation
At its heart, the field of social impact entertainment is a collaborative space.
For our projects to bring about lasting change in the world, we need to join forces with unlikely allies, develop trust, share control, and build toward opportunities for mutual benefit. This is precisely why the most successful SIE projects tend to have multiple funders and stakeholders. Everyone brings something different to the table — from funding, networks and experience, to impact expertise and platforms that reach new audiences — all of which are necessary for success.
As Director of Global Partnerships at the Skoll Foundation, I work to ensure we engage the right partners to drive large-scale social change by investing in, connecting, and celebrating social entrepreneurs solving the world's most pressing problems. We focus on social entrepreneurs because we believe they offer society a new way of operating, and a chance to fundamentally shift the systems that create and maintain global challenges like climate change and poverty. Our efforts range from funding and convening, to collaborating and storytelling. Partnerships are essential for outsized impact, especially in the social impact entertainment space.
The Skoll Foundation
The Skoll Foundation has invested approximately $470 million worldwide, including presenting the Skoll Award to 128 social entrepreneurs and 106 organizations on five continents.
"Stories Of Change." Sundance Institute,
For us, storytelling is a crucial tool for helping audiences see the world not just as it is, but as it could be. In addition to creating our own films about social entrepreneurs, the Skoll Foundation funds storytelling about and in support of social entrepreneurs through a curated network of partners. Each partnership fits roughly into one of three categories, and we like to think of these relationships as forming a funnel-like continuum for social change. These categories are: raising awareness around social entrepreneurs and their potential to drive transformative change; targeted audience engagement with social entrepreneurs; and driving impact on the issues as a result of that engagement.   
Our broadcast media partners — like NPR, Public Radio International, BBC, and PBS NewsHour — tend to fit into the first category. These institutions reach millions of people through their reporting, and we support their coverage of social entrepreneurs to create awareness about social entrepreneurs' innovations. Editorial independence is key for journalistic partners, so we focus on the number of stories, the size of the reach, and the demographics of audiences, rather than on specific outcomes. In total, Skoll broadcast partners have produced more than 100 social entrepreneurship stories in the last year, reaching a global audience of over 50 million.
With film and storytelling organizations like Sundance and Doc Society, the work that emerges often falls into our second and third categories: engagement and impact. With these partners we focus on building storytelling capacity within social entrepreneur organizations and supporting collaborations between individual social entrepreneurs and filmmakers.
For example, our Sundance Stories of Change partnership connects independent storytellers with social entrepreneurs and supports the creation of compelling SIE film and media projects that result from those connections. Since 2008, Sundance has hosted 35 convenings between filmmakers and social entrepreneurs and funded 49 film projects, 29 of which are complete and 14 still in progress. One of Stories of Change's standout successes is the documentary Open Heart — a short film about eight Rwandan children with rheumatic heart disease who must fly to Sudan without their parents for high-risk and potentially life-saving surgery. Open Heart was nominated for an Academy Award® in 2013, which prompted the Rwandan Minister of Health to make a commitment to eradicate rheumatic heart disease in her country.
Bending the Arc — another Stories of Change documentary project — follows the struggles of Boston-based nonprofit Partners In Health as it works against established global health forces to make quality healthcare a human right. The film premiered at the Sundance Film Festival in 2017 and went on to raise more than $21 million for the organization through targeted screenings across the country.
The Emmy® Award-winning Collisions is an example that found success in the policy arena. This VR film follows an indigenous elder of Western Australia's Martu tribe as he recounts his experience witnessing a nuclear test explosion in the 1950s. Director Lynette Wallworth and producer Nicole Newnham premiered the film in 2016 at the World Economic Forum in Davos, the Sundance Film Festival and the Skoll World Forum. Collisions then went on to back rooms in high-level nuclear non-proliferation meetings around the world, culminating with a screening at the UN prior to their historic vote to ban nuclear weapons. It then helped prompt Australian legislators to pass a budget funding healthcare for aboriginal people exposed to nuclear tests in the 50s and 60s.
Skoll World Forum
The Skoll World Forum is an annual three-day-long congregation in Oxford of nearly 1,000 distinguished delegates from the social, finance, private, and public sectors, where they can learn about the latest models for change across a range of issues and engage with leading thinkers and doers on critical questions, challenges, and opportunities in global systems change.
"Skoll | About the Skoll World Forum." Skoll Foundation,
Having learned the lesson of the power of collaboration, we then joined forces with Just Films/Ford Foundation and Doc Society to launch FlexFund, to support entrepreneurs and filmmakers with existing projects poised for impact. There are now eight FlexFund initiatives from common Ford/Skoll grantees who receive financial support, expertise, and connections to ensure the highest likelihood of creating real impact. Illustrative projects include a partnership between Crisis Action, and the acclaimed documentary Last Men in Aleppo to protect civilian safety in conflict zones, and the recently launched short documentary What Counts that makes the case with Health Leads for addressing social determinants of health, like housing and food.
Our partnerships, our experiences, our successes and our failures have made one thing clear: it's really hard to predict which projects will gain the most traction, and for those that do, it takes everyone pushing together to maximize impact. My advice is to take risks and double-down on momentum when it happens. Not everything will succeed, but if we can recognize the early signs of uptake, collaborate, and commit to impact, we can continue to move the needle on the problems facing us today.