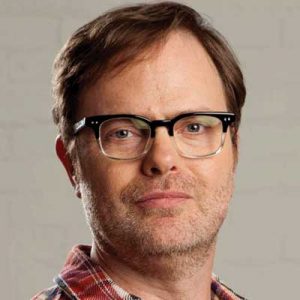 Rainn Wilson
Actor, writer, co-founder of SoulPancake and Haiti-based educational initiative Lidé
Notable works: The Office, Kid President
In 2008, when my friends and I began talking about the idea that would eventually become SoulPancake, there was very little positive content on the web.
Microsoft Attention Span Study
McSpadden, Kevin. "Science: You Now Have a Shorter Attention Span Than a Goldfish." Time, 14 May 2015.
There was, to put it bluntly, a lot of crap out there: porn, Kardashians, crass humor, and materialism. We wanted to create a positive destination where thinkers, innovators, misfits, artists, and activists could congregate to explore their universal human experience — a place to examine ideas, chew on life's big questions, and dig into thought-provoking content.
Once up and running, we quickly realized that the video content we were producing for the website was our strongest and most engaging content, so we pivoted to becoming a content studio focused on video storytelling. Our first big initiative was to create inspirational short-form episodic series via a premium YouTube channel. And it was there that we found our first big hit and really homed in on our voice.
The future of all content must include short-form video. It's the most consumed content on social platforms, and the most easily accessible (and streamable) by phone, which is the device more and more consumers use to watch entertainment. When students are between classes or have time to fill, they don't turn to movies or TV shows, they use their phones to find some entertainment. This content is often immediately shareable, unlike traditional television and film, so it can reach huge audiences in a short amount of time — something that was unthinkable 10 years ago.
The real potential in this medium lies in giving youth hope: hope that they matter, hope that their voices are heard, hope that they can make a difference. This young, tapped-in, influential audience has the potential to change the world, but they don't want content that lectures them. They want to be inspired and to find their own path towards change. They want content that punches them in the heart and the gut.
And content creators? We have the biggest responsibility here. As the world becomes more fractured and perilous, it's up to content creators to tell the stories that move us forward as a species on our sacred planet. I hope that SoulPancake can continue to serve the world by making content that ignites a fire toward positive change.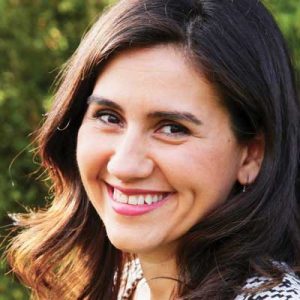 Shabnam Mogharabi
General Manager of SoulPancake
Notable works: Kid President, My Last Days
We are bombarded with a dizzying amount of information every single day.
The average American spends 35–45 minutes per day on Facebook; 500 million tweets are sent every 24 hours, and 300 hours of video are uploaded to YouTube every minute. At the same time, our attention spans are shrinking — a study by Microsoft found that our average attention spans had dropped from 12 seconds in 2000 to 8 seconds in 2015. That's one second less than a goldfish. So it makes sense that our consumption habits have evolved to favor short-form and social content. Social platforms cater to our shrinking attention spans, and short-form content allows us to maximize the time we are spending on entertainment. Short-form content takes advantage of the five, 10 or 20-minute "micropockets" of time that we now program our days with.
Consumers are looking to use the Internet to find a sense of meaning, purpose, and identity.
Kid President
Kid President began when 11-year-old Robby Novak and his brother-in-law Brad Montague started posting their videos online to inspire positivity. The videos cover a range of topics but all center around the simple premise that the world can be more awesome, and that all kids deserve to be heard. Since its inception, Kid President videos have included notable guests – such as President Obama and Beyoncé – and garnered more than 100 million views.
"Kid President." Facebook.
But does this type of content work to communicate a social impact message? I believe it does, and I have a theory why. If you're familiar with Abraham Maslow's "hierarchy of needs" from your psychology class, humans must progress through five stages of needs, each being fulfilled before the next can be reached, in order to reach the ultimate goal of self-actualization. I believe the Internet, and particularly our online lives, are progressing through Maslow's hierarchy. Our "physiological" needs online were met in the early days of the online boom with transactional entities like eBay and Amazon. The birth of online banking and secure email like AOL Online and Microsoft gratified our need for "safety;" our "belonging" needs were met with social sites like Friendster, MySpace, and Facebook; and we're now living in the "esteem" stage where sites like Twitter and Instagram fulfill our needs to be seen, heard, and appreciated. I believe we are finally on the verge of entering the final phase of "self-actualization" online where consumers are looking to use the Internet to find a sense of meaning, purpose, and identity.
Maslow's hierarchy of needs
Maslow, A.H. "A Theory of Human Motivation." Psychology Review, vol. 50, 1943, pp. 370-396.
This is where I see SoulPancake and our parent company, Participant Media, fitting in. As storytellers, it's our job to help people find a common sense of purpose and meaning. This doesn't always mean direct social action; most of the time, it's actually about forming an identity and connecting with other humans. In the social sphere, this understanding is especially important. You don't want to ask your audience for something every time they interact with you because it can cause fatigue. Broadly speaking, the vast majority of our content is entertainment that asks the viewer to think and feel, but only a small percentage has a direct call to action.
One of my favorite sayings is, "Strive to be a virus; not viral." In practical terms, this means creating a steady drumbeat of content that can infect an audience, not focusing on getting a viral hit. That way, if and when you do have an organic breakthrough hit, you can capitalize on the momentum of that one video by having a library of content for viewers to engage with that helps sustain views and engagement during the inevitable post-viral drop.
Strive to be a virus; not viral.
Take our hit series Kid President. It wasn't an overnight success. We'd been releasing Kid President episodes for a long time — an original video, once a week, for six months — before the "Pep Talk" video went viral, hitting nearly 30 million views in less than one week. Kid President certainly had a viral moment, but because of the deep vault of content already in place, it wasn't a one-off sensation.
SoulPancake's target audience epitomize what I like to call the optimistic millennial and the altruistic Gen Zer.
Kid President campaigns
After Kid President's success, SoulPancake took viewers' requests into consideration. They shifted Kid President videos to include advice, tips, and lessons. They also built the Socktober campaign, which provided socks for homeless children.
"SoulPancake." YouTube, 24 Jan. 2013.
Nine-in-10
Nearly nine-in-10 (89%) say they would rather buy from a company addressing social or environmental issues over one that is not, and 92% would switch brands to one associated with a good cause, given similar price and quality, skewing just slightly higher than the national average (89%).
"2017 Cone Gen Z CSR Study: How to Speak Z." Cone Communications.
After its viral success, we continued to focus most of Kid President's weekly videos on being entertaining, inspiring, and meaningful. Only two or three times a year we would ask viewers to engage at a more significant level. For example, the annual Socktober campaign — which aimed to prove that even the smallest acts of kindness, like donating a pair of socks, can make a difference in the lives of the homeless — was a prime example of using these asks sparingly, but to great effect. Over time, something fascinating happened: our viewers started asking Kid President for more ideas on how else they could make a difference.
These viewers — SoulPancake's target audience — epitomize what I like to call the optimistic millennial and the altruistic Gen Zer. These generations believe that humans are generally good, there is hope for the future, and they have the power to make a difference. A big part of that is by using their dollars as consumers to show what they stand for. Given the choice between brands, millennials and Gen Zers will often opt for the brand that stands for something. In fact, a recent study by Cone Communications suggested that 89% of Gen Zers would rather buy from a company that's addressing social or environmental issues over one that is not.
Be a virus, not viral
SoulPancake had been releasing the Kid President videos once a week for six months prior to their "Pep Talk" video that has now garnered over 43 million views. The video was an infectious "virus" thanks to the steady drumbeat of content that had preceded it. Many prior Kid President videos saw a lift in viewership after the "Pep Talk" release.
In early 2018, Larry Fink, chairman of BlackRock, the world's largest asset manager, sent a letter to the CEOs of the company's holdings. In it, he explained that it was essential for businesses to have a social purpose, or else risk losing consumers and the support of BlackRock. This was a clear signifier that even Wall Street is starting to pay attention to the demand for social responsibility and conscientious impact, and if that is happening, then it's a trend everyone needs to start embracing.
The next generation, powered by social networks, mobile technology, and the drive to find meaning, will change the way the world works, and for the better. Ignoring that will be an obstacle to progress and success. The change is already happening; it's just up to us to engage with this new culture.