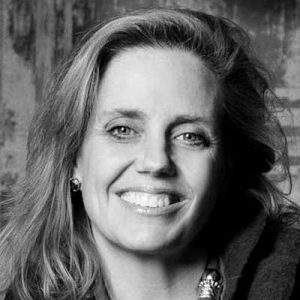 Geralyn Dreyfous
Founder, Utah Film Center Co-founder, Impact Partners Film Fund
I got into filmmaking in 2000 with The Day My God Died.
Born into Brothels: Calcutta's Red Light Kids awards
"Born Into Brothels: Calcutta's Red Light Kids (2004): Awards." IMDb, 2019,
This was a time when films were starting to be used as tools for social change, and documentaries, such as Lee Hirsch's Amandla, had begun to do well at the box office. But there was no infrastructure to build audiences for these films. Documentaries were being bought and sold for next to nothing, so there was no money going into them, and they weren't being distributed in a very imaginative way.
I realized something was seriously wrong with the system after releasing Born into Brothels in 2004. This was an HBO film that was eventually sold to Netflix, where it did exceptionally well. It had already won a Sundance Audience Award and an Academy Award®, and had taken $3.5 million at the box office. Yet the filmmakers saw only a $150,000 return, and very nearly lost money on the project. We were left scratching our heads; it just didn't make sense.
The next film I was involved in, Living in Emergency, was an abysmal failure, but it taught me a lot. We were working with a first-time filmmaker, we didn't have the proper contracts in place, it kept costing more, and we had to repeatedly go to the investors to bail it out. We learned that we shouldn't release large amounts of money until the whole budget is raised and that we must have systems in place that can hold filmmakers to account.
Documentary film, and by extension the field of social impact entertainment, is one of those areas where it makes sense to pool your resources and your risk.
Icarus impact
The Icarus protagonist, Dr. Grigory Rodchenkov, and his exposing of Russia's state- sponsored Olympic doping program led to the McLaren Report, "which concluded that more than 1,000 Russian athletes across over 30 sports benefited from state-sponsored doping between 2012 and 2015."
In November 2017, the McLaren Report was confirmed as accurate by the World Anti-Doping Agency, which determined Russia's eligibility to participate in the upcoming 2018 Winter Olympics in PyeongChang.
These early successes and failures led me, in 2007, to form Impact Partners with Dan Cogan. By this point we had realized that the system was truly broken. We had to find a new model for funding and producing these kinds of important documentaries.
The act of making a documentary is in itself an entrepreneurial process. You're only as good as your ability to learn and to adapt — in other words, to pivot. At Impact Partners, while we learned a lot on our own, we also take lessons from the masters of pivoting: venture capitalists. We've introduced a unique model of equity investing for social impact films that seeks to ensure that the money leaving the system is ultimately replenished. Every film that we make stands on the shoulders of the ones before it.
In the old model, you'd seek out a grant from a foundation and try to make a documentary that fit the foundation's criteria. You'd be afraid of admitting when things went wrong. That's the exact opposite of what we do at Impact Partners. Instead of handing out grants, we tell the filmmakers that we'll put up the money to complete this film but we want it back, plus a certain percentage. However, if the market doesn't bear out and they only return 20 cents on the dollar, that's still fine because it's better than zero.
As for when things go wrong — we're not afraid when that happens, nor do we want our filmmakers to be. Icarus is a great example of this. It began as a film about doping in cycling and turned into one about the largest doping scandal in sports, with its key character, a whistleblower, becoming a target for assassination by the Russian government. Some people may have pulled out when the stakes got so high, but we capitalized. We got the Justice Department and Homeland Security involved, and we got good legal counsel. Again, it was our ability to pivot that allowed us to capitalize on an opportunity that many others would have run from.
Equity investing was seen as controversial at first; we were accused of profiting off the backs of starving artists. But as one of our founding members, the venture capitalist Jim Swartz, has argued, filmmakers are essentially entrepreneurs — they spot things before other people. We can help them by making films faster and by introducing the fiscal discipline of equity into the process. By amortizing the risks, we can accelerate the flow of capital to these cultural entrepreneurs.
That said, we tell our investors that if your primary motivation is pure profit, you're likely in the wrong place. But if you're looking to make a real difference in the world, then come aboard. We want to leverage all the other resources our investors can provide: distribution, access to influential networks, even setting up screenings that can change policy. Their time and talents are ultimately worth more to us than their checks alone.
The fact is these kinds of social impact documentaries provide a huge public service. You have to remember that somebody spent three years and a million dollars making a film that you can see at a community screening for free, or on Netflix, or at a theater for 10 dollars. That's a lot of social innovation — it's practically a miracle! But how do we get audiences to hear about these films? The distribution and the targeting of audiences are the next frontier, and we still haven't quite figured that out yet.
No one person can make and distribute a film, so we're building communities that learn from each other. We tell potential investors that documentary film has the unique ability to align with, and to amplify, something that they already care about — provided they work with people that understand good storytelling.
For them, it boils down to a choice. They can create the same back office in their foundations to search for suitable films, staffing this for around $300,000 a year, or they can pay us $35,000 a year to cover our overhead. That way, they draw upon our expertise and avoid reinventing the wheel. They can test the waters and make sure any mistakes they make are not million-dollar mistakes but, say, $25,000 mistakes.
Documentary film, and by extension the field of social impact entertainment, is one of those areas where it makes sense to pool your resources and your risk. The reward can be a story that changes the world and cuts through the noise and clutter like nothing else.