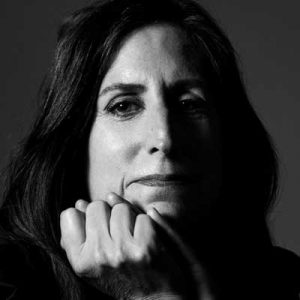 Nonny de la Peña
Founder and CEO of Emblematic Group
Notable works: After Solitary, Hunger in Los Angeles, Project Syria
Imagine that you are walking down the street when you see somebody hit by a car.
Global VR Industry
According to the Venture Reality Fund, in the first quarter of 2017, the global VR industry grew by 40%.
Market size
According to Statista, in 2022, the augmented and virtual reality market is expected to reach a market size of $209.2 billion. As of 2018, the global AR/VR market size is $27 billion.
You could go home and describe your experience, you might even be able to show photographs or a video of the aftermath — but nothing would do justice to the visceral experience of having been there on the scene. Virtual reality (VR) is the closest we can get to communicating an exact sense of being physically present at an event.
This is why as a research fellow at USC in 2010 I wanted to apply the VR medium to social impact stories. I've always been driven by a desire to connect people to these topics: I've worked as a Newsweek correspondent and created documentaries such as the HBO investigation Death on the Job. But a two dimensional screen can be distancing. Concerns like poverty or war can fail to resonate or feel relevant when we see them as flat images on the news, as if these things are somehow separated from our day-to-day lives.
For people to feel empathy about a specific story, they need a sense of "being there." They need to understand what a situation feels like to connect with the issue. VR is the perfect tool to create this sensation and, by extension, to create social impact. That's why I decided to use VR to change public perception around the issue of food insecurity, wherein poverty deprives people of adequate access to food.
Hunger in Los Angeles recreates an actual scene using real audio in which a man collapses into a diabetic coma while waiting in line at a food bank in California. The viewer is placed on the street when the diabetic man falls to the floor and starts having seizures, while others in the scene stand around helplessly waiting for paramedics to arrive. The experience, which launched in 2012, was the first VR piece to be featured at the Sundance Film Festival, and ultimately helped to set the vernacular for the space, coining the term "immersive journalism." It went on to inspire directors and artists like Chris Milk, Adrian Grenier, and Alejandro González Iñárritu, the latter of whom referenced the project when he won an Oscar® for his VR film Carne y Arena in 2017. We have seen many users become so immersed in the experience of Hunger in Los Angeles that they actually crouch down to try to help the fallen man.
VR can contribute to or even change a narrative that's still unfolding.
Media Impact Project
Media Impact Project researchers have established that virtual reality "evokes presence, encourages perspective-taking, and gives participants a sense of being in control of their environment."
Crunchbase 2017 Women in Venture report
(results compared to 2016)
The empathetic power of VR goes beyond the anecdotal, as evidenced by a 2018 study by Johanna Blakley's team at the Norman Lear Center. The Lear Center studied participants' reactions to After Solitary, a VR piece I created in partnership with the documentary series FRONTLINE that takes users inside a solitary confinement cell. Ex-prisoner Kenny sits with you, explaining exactly how the experience drove him insane. Walking around the cell yourself, you get a physical sense of the claustrophobia; the impact of those four walls is felt viscerally. The study proved that participants felt both transportation (the feeling of being absorbed into a story) and spatial presence (the sense that they could carry out actions in the virtual environment). Furthermore, the vast majority of respondents said they were "likely" to "extremely likely" to seek out further reporting on the issues of prison conditions and solitary  confinement.
FRONTLINE and Emblematic Group study
In a study with FRONTLINE and Emblematic Group, the Media Impact Project team (at the Norman Lear Center) studied participants' reactions to After Solitary. Researchers compared the effects of viewing the same material over separate platforms, including room-scale VR with headset, 360 video, 360 immersive video, and 2D.
Participants were randomly assigned to experience After Solitary in room-scale VR or a comparison group. They were given a pre- and post-survey to ask about their participant experience as well as to measure changes in knowledge, attitudes, and behavioral intention based on their experience.
It's important to note that VR isn't just about communicating an existing, finished story — it can contribute to or even change a narrative that's still unfolding. For example, my piece One Dark Night brought new evidence to light in the case of the shooting of Trayvon Martin. Here we used architectural recreations of the surroundings and recordings from the actual 911 call to put people in the immediate vicinity of the crime, moments before the shooting. During the creative process, I took these recordings to a forensic audio specialist who cleaned up the sound. After relistening to the audio, the specialist said he would testify that George Zimmerman cocked his gun as he got out his car. It turned the VR piece into a breaking news story.
VR isn't just about narrative development, either. The technology of the medium is also constantly evolving, and we've helped create some real breakthroughs. We created code for Google VR and The Wall Street Journal that enabled a live feed of the stock market to be explored in both a virtual environment and in augmented reality. Despite this, it's an ongoing struggle to secure investment. As a woman, I'd say it's the biggest challenge I face. For example, in 2017, $85 billion was invested by venture capitalists. All-female teams received just $1.9 billion of that money, 2.2% of the total pot. Meanwhile, all-male teams received roughly 79% or $66.9 billion.
Soon you'll be able to experience VR on your personal device wherever you are.
Female founders and venture capitalism
The average deal size for a female-led company in 2017 was just over $5 million, compared to almost $12 million for a male-led company.
The number of deals involving female-led startups is still low at 368, compared to 5,588 for all-male teams.
Funding challenges have forced me to work on shoestring budgets — I've even had to finance some of my own projects myself and VR is not a cheap medium to be working with! The setup costs are huge, particularly as you have to create dedicated, fairground-like environments in order for people to view your work. This also limits how widely your content can be distributed and how many people can be impacted by the stories you're telling.
Another challenge is that right now, 2D video is the only way to promote your work. Needless to say, this hardly represents what the experience is like when you're there and how it engages the whole body. You lose the essence of what makes this work so effective, which is beyond frustrating!
Diversity in tech companies
Female employees make up between 26% (Microsoft) and 43% (Netflix) of the total workforce at the top eight major tech companies, with the percentage dropping lower when it comes to actual tech jobs.
Thankfully, I think many of these challenges will dissipate once our phones and headsets are merged. We're getting closer to this happening due to advancements in technologies like edge computing and 5G mobile Internet; soon these will enable us to create more seamless experiences for less and allow for much wider distribution. At that point there'll be no need for the "fairground" spaces — you'll be able to experience VR on your personal device wherever you are. We're also making great progress towards making volumetric experiences accessible through a web browser in a platform we are calling REACH, and we've been making simple tools to not only eliminate our own reliance on 2D video for promotion, but to open the space for everyone.
VR is becoming ever more mainstream. The number of consumers using VR increased from 1.6 million to 41 million people worldwide between 2015 and 2018, while startups raised $3 billion in investments in 2017 across 28 AR and VR categories, breaking previous records. In short, it's inevitable that our digital world is going to "go spatial." There's no reason for us to experience a flat Internet when our real surroundings are dimensional. It's a no-brainer that this change will happen, and as it does the opportunities for engaging social impact content will increase dramatically.