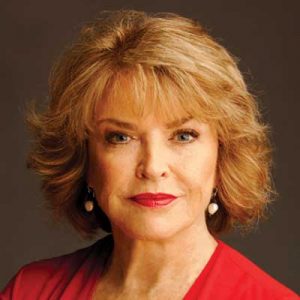 Pat Mitchell
Emmy® Award-winning and Academy Award®-nominated producer, former CEO of PBS and the Paley Center for Media
Notable works: Woman to Woman, Yes, We Can!
When I started out in television in the early 1970s, the country had just emerged from a turbulent time of social change.
Yes, We Can!
In 1974, Mitchell was involved in the history-making show Yes, We Can! – 24 hours of television programs about women, for women, produced and hosted by women. The televised women's fair was organized by Boston's Channel 4 and attended by some 20,000 women. Participants included Helen Reddy, Gloria Steinem, Julia Child, Elma Lewis, Betty Friedan, Jaye P. Morgan, Florynce Kennedy, Kitty Carlisle Hart, Arlene Dahl, and Margaret Heckler. The special telecast was created and supervised by Raysa Bonow and the WBZ-TV reporters included Sonya Hamlin and Pat Mitchell.
Channel 4 set up 35 booths inside the Hynes Convention Center, providing literature and referral information to women on issues such as contraception, adoption, investment counseling, and employment discrimination. Panel discussions were held on stage, hosted by station personalities Sonya Hamlin during the day and Pat Mitchell at night, while also being broadcast to thousands of viewers watching at home.
The civil rights movement had, in part, led to the creation of an Equal Employment Opportunity Commission (EEOC), which required media companies to start to hire women and people of color. Yes, there were quotas, and they had an impact on what was seen on television and the programming that was produced.
So, I trace my interests in social impact programming to my own hiring as part of a social movement's impact. I believed that if we applied a social justice lens to our work, women and underrepresented populations could make a difference in media. I put that belief into practice immediately after getting my first job in television, first as a producer, then as a news reporter and anchor, and later a talk show host. Whether running my own production company or creating and hosting my own programming, I always approached everything from the perspective of what difference the report, show, documentary or special would have beyond the broadcast.
As one of the first women in network television on the frontlines of the women's movement, I faced the challenges of being the "first" or the "only." I was encouraged to stay away from women's issues to avoid being stereotyped. But I saw the tremendous opportunity to optimize the power of television as a mass media communications tool to raise awareness about women's lives; to elevate women's stories; to point out the challenges of inequality; and to push for programming with social change and impact agendas.
In one early, groundbreaking example, my female colleagues at WBZ-TV — the Boston NBC affiliate at the time — and I convinced management to devote 24-hours to programming for women, produced by women. The impact was beyond expectations, with huge ratings and thousands of women showing up to participate in an event we called Yes, We Can! The New York Times described the event as "history-making," and it was — we proved the impact that women's programming could have on a community. This was a one-time-only event, but it convinced me of the power of the television medium to be transformative, and I became committed to using every media platform I could access to tell stories with impact.
During my early years in Boston, Washington, and Los Angeles I sustained my commitment to impact programming, focusing — when possible — on women's stories. Frustrated with the limitations of network programs at the time, I left a good job to set up my own company and produce a daily series for national syndication. The Woman to Woman series featured conversations among carefully curated groups of women who shared stories, challenges, and ideas. The series won the Emmy® for Best Daytime Talk programming in its first year, and our success proved to me that programming intended to have impact could be more popular than the diet of soap operas and game shows that were being offered to women audiences at that time.
I believed that if we applied a social justice lens to our work, women and underrepresented populations could make a difference in media.
A Century of Women
In 1992, Pat Mitchell approached Ted Turner about producing A Century of Women, a 10-hour series that documented the history of women in America. Turner convinced Mitchell to join Turner Broadcasting as President of Turner Original Productions and later CNN Productions. It was there that Mitchell executive-produced hundreds of hours of documentaries and specials, which earned 35 Emmy® Awards and 5 Peabody Awards.
I also witnessed the growing impact of documentary films, and by partnering with former UCLA professor and author, Dr. Diana Goldberg-Meehan, launched a nonprofit division of a very successful Hollywood production company, Ubu Productions. Our mission was to produce films with social impact campaigns attached. The films exposed child labor abuses, infant and maternal mortality, and explored the challenges for women in politics and on the frontlines of global conflicts. In each instance, the documentaries had a specific and actionable impact agenda.
That time was financially tough, as no one believed impact or mission-based films could be popular or make money, and there were far fewer media companies buying them. "You ever have to make money, all you have to do is have impact." That was the way Ted Turner described the job opportunity when he offered me the position of leading his documentary unit as part of the cable media empire he was building in the early nineties (which included TBS, TNT, and CNN). His vision for media was that it could help create a better world. He actually named our unit "The Better World Society" and often reminded us that creating a better world began with more informed media consumers.
This kind of content has never been more needed to strengthen and sustain a democracy.
Woman to Woman Daytime Emmy® Awards
"Woman to Woman (1983–1984): Awards." IMDb, 2019.
Pat Mitchell awards and honors
Women's Media Center's first annual Lifetime Achievement Award
2012 Sandra Day O'Connor Award for Leadership
Honored by the Center for the Advancement of Women
Awarded Bodleian Medal from the Bodleian Library at Oxford University
Appointed by Congresswoman Nancy Pelosi as one of nine Commissioners to develop a plan to build a National Women's Museum in Washington, D.C.
We produced 400 hours of documentaries, most of which had social change agendas attached from the beginning — partnering with National Geographic for conservation awareness, or telling the untold story of women's contributions to the 20th century, or exposing the threat of nuclear annihilation. Ted never hesitated to tackle controversy or to advocate for a more sustainable, peaceful world, and he used the power of his media companies to promote this agenda. Many years later when Jeff Skoll set up Participant Media, he acknowledged that it was Ted Turner's documentary work during this period that had, in part, inspired him.
After the Time Warner/AOL media merger, there was no longer support for social impact work at Turner Broadcasting; Ted was fired and I decided to leave, too. I stepped into my next big opportunity for impact by becoming president of PBS. PBS's mission is to serve, not sell, and it's the only major media company with national reach and impact — it's connected to local communities through 359 independent public television stations. PBS doesn't have the profit motive of other media companies, and even though the funds have to be raised every year, they are from the public, who values their PBS station. PBS's programming is mission- driven and less accountable to sponsors or shareholders. It's not a perfect model for impact because there are built-in limitations to what PBS can do, given its mission to serve the local stations. Also, what they see as positive impact varies greatly, and there is always the threat of government disapproval of an impact agenda — even though government support is less than 20% for more public television. However, I feel good about the impact programming PBS was able to commission and distribute, and I remain a big proponent for a better-funded public media enterprise in a democracy.
For me, the next position was to lead the Paley Center for Media, and use that platform of an organization that served all media and technology companies. I had an opportunity to approach social impact from the perspective of what was changing in the entire media ecosystem — changing at cyberspeed —and the increasing globalization of media as a powerful force connecting the world, as well exposing the dangers of media consolidation of ownership. Soon all broadcast networks and cable companies will be owned by less than seven companies, and local stations are being bought up by media conglomerates, further narrowing the focus of programming and diminishing the commitment to provide accurate information and news and entertainment that uplifted or informed as well as entertained.
Media is one of the single biggest forces in our world today.
CPB Funding
The Corporation for Public Broadcasting (CPB) received an advanced appropriation of $445 million for 2020. Funding is set two years in advance, with Trump proposing to eliminate nearly all of it.
The bulk of CPB money is distributed through grants to PBS and NPR member stations, who use it primarily to cover operational costs. In rural areas, local public television stations are among the only programming options – CPB funding can account for more than 50% of a station's budget.
Today, most local media outlets are staggering under a burden of unrealistic financial pressures. In terms of impact, local media serves as a countervailing force against the present deterioration of both the quantity and the quality of news coverage, and the production of compelling content intended to compel social change. This kind of content has never been more needed to strengthen and sustain a democracy.
I've been fortunate to work with media visionaries who believed in optimizing media's power for good — Ted Turner, Robert Redford and now Jeff Skoll, as I sit on the Participant Media board. We need more visionaries willing to put their money where their values are, and we are seeing more entrepreneurs with means moving into media content and distribution. Hopefully, they too will harness media's power for good and follow the path of these three men — and the many others who have invested in stories well-told to compel social change.
PBS
Overall, what I have learned through my various positions in media — as a journalist, documentary producer, network executive, media board director, and as an engaged supporter and board member of many social impact organizations — is this simple but profound truth: media is one of the single biggest forces in our world today. It's capable of influencing elections, shifting policies, starting revolutions, ending wars, and transforming lives and communities. That power can be optimized for good: for exposing wrongdoing and exploring solutions; for shaping opinions and attitudes; for reinforcing values and shifting perceptions; for changing the world for the better; and for envisioning a more equitable and sustainable future for all. Can there be a better reason to tell a good story, make a great film, write or produce a series, or create new realities through technological advances? It all begins with a good story, well told, and the best have outcomes of positive social change.