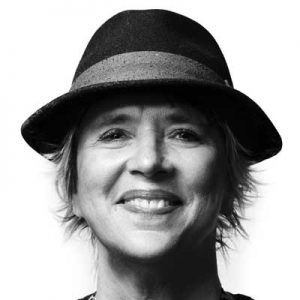 Eve Ensler
Award-winning playwright and founder of V-Day and One Billion Rising, co-founder of City of Joy
Notable works: The Vagina Monologues
I have always thought of theater as a radical church — a holy space in which we come together to think and feel deeply about the things that really matter to us.
All my working life, artists and audiences have been educating me about the power of this space. I was thrilled when the Skoll Center told me that my play The Vagina Monologues is regarded by them as a model of how art can lead to social change —and it made me think back over what I have learned in the 20 years the play has been occupying that holy space across the world, in spaces from Paris to Pakistan, from Manhattan to Mumbai.
As a playwright I'm biased, but my hunch is that theater is the most transformative of all art forms — for three reasons.
As an audience member you get to respond to a film; but with a piece of theater, you get to create it.
The Vagina Monologues awards
"The Vagina Monologues." Lortel Archives, Lucille Lortel Foundation.
New monologues
New monologues have been released with each subsequent edition of the text, including 2004's They Beat The Boy Out Of My Girl…Or So They Tried, created from a series of interviews with transgender women.
Other "spotlight" monologues have focused on the experiences of Afghan women, Native American and First Nations women, and the "comfort women" who were forced to provide sexual services to the Japanese army during the Second World War. The latest edition features monologues dedicated to the women of Haiti, the women of New Orleans who suffered after Hurricane Katrina and women who face sexual violence in the workplace.
Performances
There were 1,381 performances off-Broadway at NYC's Westside Theater from 1999–2003.
"The Vagina Monologues." Lortel Archives, Lucille Lortel Foundation.
Theater is one of the only forms that's happening in the present tense. It is literally alive, in front of you, at that moment. Where other art forms like film or novels have been frozen ahead of time, theater will always be unpredictable and unexpected because it depends on the people in that particular room on that particular day. This is true of the actors, of course — but it's also true of the audience. One audience can be silent at the precise moment when another audience fell into raucous laughter — and that response transforms the performance, which in turn transforms the response of the audience, and so on. Every work of theater is a co-creation with the audience. As an audience member you get to respond to a film; but with a piece of theater, you get to create it, in that room, with those people, in that moment, which will never be repeated in the same way again.
That produces danger and surprise. You don't know what will happen. Maybe the set will fail to open, and the actors will find themselves stuck in front of gorgeous scenery the audience will never see. Maybe an actor forgets a key line. Maybe she goes further out with an emotion than she's ever done before — and she opens up a space with the audience neither of them could have imagined.
And thirdly, theater is embodied in a way other art forms can't be. The actors are there in their bodies, in their voices, in their beings, sharing their physicality with your body as an audience member. I love what Terence McKenna said — "The only thing we can trust is our experience." Theater gives you a physical experience. You can remember a great play the way you remember an experience you had in your own life — because it is an experience in your own life.
I am often asked for advice about how to create art that has a social impact. My first and most important piece of advice is always — don't take yourself too seriously. When I started, I thought it was my obligation to teach people my politics and my point of view, but what I quickly learned is that's not how people change. They change through dialectic, through hearing people in dialogue and challenging one another — and people particularly change through laughter. If you want to promote political change you have to be funny. Otherwise people will feel beaten up and plowed over the head.
V-Day global reach
V-Day Annual Report: 2017 – Rise for Women Workers, Solidarity Against the Exploitation of Women. V-Day, 2018.
If you are writing about social issues, your job is not to communicate what you feel — it is to communicate what characters feel. You need to crawl into the bodies and minds of people you don't agree with so you can allow that point of view to be fairly and clearly communicated. As a writer, you fear that what you believe won't come through if you channel yourself into your characters. I learned you have to trust it will come through. The paradox of art that wants to produce social change is that the less you try to persuade people to change, the more successful you will be — you have to tell a deeper emotional truth, and be funny, and you will find that those connections produce the change you want.
My first and most important piece of advice is always — don't take yourself too seriously.
I wrote my play The Vagina Monologues because one day I was speaking to an older feminist I admired and I was startled when she described her postmenopausal vagina as "dead," and spoke of it with real contempt. I realized that as women, we were taught to be silent about our vaginas. I began to have hundreds of conversations — and to be honest, I thought when I stood up on stage and talked about this, somebody would shoot me. Instead, women lined up after every performance in their dozens or their hundreds to tell me their stories — about the first orgasm, or their incestuous rape, or anything in between.
In dark times, art can move us beyond the binaries of good and evil, left and right.
College Campaign
In 1999 V-Day launched its College Campaign, and in the first year, there were 65 V-Day campus productions.
By 2007, 700+ colleges had registered to participate.
10th anniversary
On April 11th–12th 2008, V-Day celebrated its 10th anniversary, V to the Tenth, in New Orleans, to shine a light on the issues facing the Gulf South community in the wake of Hurricanes Katrina and Rita.
30,000+ people attended the events over the two days V-Day transformed the Superdome into "SUPERLOVE," with conversations, slam poetry, performances, storytelling, and art.
Thousands traveled from out of state and overseas for events that featured 125+ speakers and 40 stars, a choir of 200, and 800-plus volunteers.
A silence had been broken, and women started to pour into the silence. I started to feel like the keeper of these extraordinary secret stories — of joy, of grief, of rage — and I felt like it was unethical to keep them stored away, informing only me. So I gathered together in 1998 some extraordinary women and asked them: how do I use this play, which is connecting with so many people, to end violence against women and girls, and to set us free? Soon, we had established a group named V-Day. Every 14th of February, women all over the world began to perform The Vagina Monologues in their communities, with the proceeds going to feminist causes.
What has been the result? I see it playing out every day, and I think it has three layers. The first is: we have raised $100 million, for everything from domestic violence shelters in Arizona to a sanctuary and revolutionary center in the Democratic Republic of Congo treating survivors of sexual violence. The women who have been transformed are out there, now transforming the world. The second is: thousands of women have performed these monologues, and I meet women all the time who tell me that it led them to choose a life of activism — whether as social workers, or campaigners, or politicians. The third is: all those audiences can never go back into that silence. They have listened to a conversation — blunt, funny, raw — about vaginas. They have been awakened to the issues facing women.
I wish that The Vagina Monologues had been rendered politically redundant, and the world could now enjoy it as purely a piece of art. You don't need me to tell you that we aren't there — and we are in fact facing horrific forces of misogyny rising once again (alongside a heroic resistance).
In dark times, art can move us beyond the binaries of good and evil, left and right. It can offer us new energy and activate our imaginations. It can inspire empathy and a much-needed compassion. It can bond us in community and offer us solidarity and protection. It doesn't become a luxury that we turn to when we have finished marching and lobbying (though we need them urgently too). Art is as necessary as light and water. We need to turn to that holy space, where we make something profound together — now, more than ever.