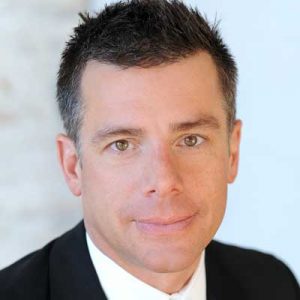 Peter Bisanz
Former Executive Director, Skoll Center for Social Impact Entertainment, UCLA School of Theater, Film and Television
When I was 35, I found myself in an unexpected and humbling position working as a lowly, unpaid intern for the Central Tibetan Administration in the foothills of the Himalayas.
I was soaking wet in a monsoon, trying to capture the essence of the Dalai Lama's teachings with a camera that had probably seen its heyday in the era of Betamax. I had already climbed the ladder in Hollywood but was consumed by doubts about my ability to have an impact there — since social impact entertainment (or SIE) really didn't exist at that time — so I left it all behind for graduate school in England to study social entrepreneurship.
Two years and a master's degree later, and still trying to find my way, I realized that all of the reasons I had originally, so passionately, pursued a career in film were united in the amazing opportunity in front of me. I finally felt that what I was doing — what I was recording — could truly have an impact. That was the feeling I had previously been searching for in Hollywood.
Eventually, this realization led me to write, direct and produce a feature-length documentary, Beyond Our Differences, which explored the commonalities of the world's religions, how leaders of divergent faiths tackle some of the toughest challenges of the modern age, and what inspires them to do so.
Although I didn't have a name for it at the time, this project was my first major introduction into the emerging ecosystem we now call social impact entertainment, and it set me on the meandering path to my work at the Skoll Center for Social Impact Entertainment at the UCLA School of Theater, Film and Television.
The purpose of this report
The State of Social Impact Entertainment is our first attempt to capture this field as it exists today. We've explored the key components of SIE; what works to engage audiences on social issues; why SIE's financial potential is growing considerably; which metrics most accurately reflect its impact; what the established theories of change are and, perhaps most importantly, how all of this relates to mainstream Hollywood.
Whether you are the head of a studio looking to develop a social impact team, or a filmmaker trying to learn how to create a social impact campaign, The State of Social Impact Entertainment is designed to help you create work that makes a positive difference in the world.
We want it to be used as a guidebook for creative storytellers looking to engage audiences in solving real-world challenges, which are often too big or complex for any single person to take on.
Our aim was to bring together key research from any and all relevant disciplines, to codify that knowledge and to hopefully reveal something new about our field in the process.
The report is not about a single company, studio or organization. Instead, we are drawing from the creativity, ideas and research of many industry experts, institutional practitioners and key thought leaders from across the SIE ecosystem.
This report pulls together all of their amazing work in one place, for the first time, and is intended to serve as an accelerant as well as a resource for people looking to work in the field of SIE.
You want to make sure that your audience walks away with a clear understanding of the steps they can take in their own lives to be part of the change you are seeking to create.
Leonardo DiCaprio, A Wave of Change
Social Cognitive Theory (SCT)
The most commonly applied theory in the area of entertainment-education is SCT. Most generally, SCT contends that in addition to direct, experiential learning, people learn vicariously by observing models. That is, models, such as those on television, transmit 'knowledge, values, cognitive skills, and new styles of behavior' to viewers.
SCT contends that media messages are particularly likely to influence outcome expectancies and self-efficacy when they feature successful characters with whom the viewer identifies, perceives as similar to himself or herself, and/or finds attractive.
How stories change the brain
Stories that are personal and emotionally compelling engage more of the brain, and thus are better remembered, than simply stating a set of facts.
There are two key aspects to an effective story. First, it must capture and hold our attention. The second thing an effective story does is 'transport' us into the characters' world.
Overview of key findings
Given the state of our world today, there is an underlying assumption that entertainment, mass media and the performing arts can drive social change because they shift attitudes, shape our culture and generate empathy. However, the dynamics for each media intervention can differ wildly.
As a result, among theorists there is a broad consensus that there is no "one-size-fits-all" approach to the creation of SIE, the social impact campaigns that accompany it or for the measurement of its impact.
There is a unanimous call to consider the unique context of each piece of SIE, as well as the context of the issues it seeks to address, from the outset. Theorists also agree that defining and planning for your impact at the start of the creative process will likely maximize the positive effects of a given piece of content. However, maintaining a degree of flexibility is key: you have to be ready and able to adapt your plan as your project takes shape and is released into the world.
There is also some urgency for greater collaboration by all the stakeholders involved in SIE. Though there are clear leaders in certain fields, like Doc Society with their Impact Field Guide & Toolkit, or the #PopJustice series of reports produced by Liz Manne, Unbound Philanthropy and the Nathan Cummings Foundation, there is still work to be done to bring the entire ecosystem closer together. It's our hope that, by covering the various different media forms and disciplines within SIE — as well as its often overlooked business case — we can inspire a greater knowledge exchange within the existing community and bring new people into the fold as well.
In summary, SIE is an emergent space. It's essential to recognize that it is shaped not just by the content creators, but also the funders, nonprofits, and academics that help to support them.
What is social impact entertainment?
Learning from the development of other fields — where theorists have spent considerable time and effort trying, and failing, to agree on a single definition — it is our hope to show you what SIE is, how it works and how to create it, rather than attempt to simply define it.
To do this, we've referred to existing theories of change, impact frameworks, and the experience of leading practitioners, many of whom have shared their stories and learnings in this report.
Several common themes emerged during this process. While different models may have a different number of steps, or use different terminology, most of them ultimately describe the following process:
However, the creation of SIE is more than a simple process — it's a creative endeavor that relies on the many facets of communication in order to effect change. While no summary can do justice to the richness and depth of this report's diverse elements, there are Five Key Considerations for SIE that were continually cited by our contributors:
1. Focus on the story — Tell the best story you can or you will never reach your audience. This mantra has been repeated by all of our contributors, from filmmakers Tom McCarthy and Fisher Stevens, to Participant Media's David Linde and Elise Pearlstein.
2. Know your issue — Fully understand the real world of your story and then determine your intended impact at the start. The importance of this consideration is evidenced by contributors like Joshua Oppenheimer and Neal Baer.
3. Find the best partners — Identify and partner with leading organizations and people already working on the issues you're attempting to address. Building your social impact campaign in conjunction with these experts can maximize your potential impact, as highlighted by Wendy Cohen and Bonnie Abaunza.
4. Think about distribution differently — Create a distribution plan that surrounds your work and activates all relevant shareholders, stakeholders and communities of action. Dustin Lance Black and Carole Tomko explain how they did this for their respective projects 8 (Theater of the Moment) and Racing Extinction (Less is More).
5. Evaluate, learn and share — Assess what you have done and pass on key learnings. Doc Society's Impact Field Guide & Toolkit and the Center for Media & Social Impact's Assessing the Impact of Issues-Focused Documentaries are just two best-in-class examples of how to do this effectively.
We don't presume to have all of the answers. However, in creating this report we have collated practical theories and personal creative insights in one place, so that we might help inform how to navigate this ever-changing landscape.
Examples and case studies
The work of our contributors has also highlighted where SIE has been deployed to particular effect. Similar to the theories of change, each of the processes discussed are unique to the work they support, but key themes did surface. Namely, the importance of identifying issues, objectives and tactics as early as possible — and then sharing this information with all stakeholders throughout the project — in order to build an integrated approach that influences outcomes.
As the world becomes more fractured and perilous, it's up to content creators to tell the stories that move us forward as a species on our sacred planet.
Rainn Wilson, Creating Soulful Content
Generation Z:
Today's audiences are conscious consumers, for whom social impact is an important consideration.
"2017 Cone Gen Z CSR Study: How to Speak Z." Cone Communications.
CAA diversity study 2017
CAA's definition of a "truly diverse" film is a film with a cast that is at least 30% non- white. On average, these films outperform releases that are not "truly diverse" at the box office on opening weekends.
Given the magnitude of today's challenges — climate change, economic inequality, forced migrations and any number of other problems — it's easy for people to get discouraged about their capacity to make a difference in the world. But as the case studies in this report reveal, SIE can play a critical role in catalyzing significant change.
For example, the film Blood Diamond was released with a coordinated campaign to enlist audiences as citizen activists and successfully sparked global consumer demand for conflict-free diamonds.
Similarly, Oscar®-winning documentary An Inconvenient Truth helped shift global opinions on climate change, one of the most contentious issues of our time, and mobilized a new generation of pioneering environmental activists.
The documentary Food, Inc. got hundreds of thousands of people thinking about how they could improve their diet and help protect the planet. And finally, SoulPancake's Kid President videos engaged a new generation in the increasingly critical issue of citizenship. These projects are just a few among a growing number of powerful SIE catalysts.
The business case for social impact entertainment
Study after study has shown that audiences are affected by what they watch. So, if you're a content creator wanting to get your message across, there's no more powerful way to do it than through entertainment. Moreover, the exponential changes in technology mean entertainment is no longer a siloed endeavor. Its influence is everywhere, including business, and therefore what's good for entertainment can be good for business as well.
Contrary to old misconceptions that associating your content with a cause somehow limits your profitability, the changes sweeping across society today — particularly in terms of demographics, distribution models and consumer appetites — actually show the opposite is true: audiences are demanding content that engages with social issues.
What's more, the increasing number of mobile devices and the rise of over- the-top (OTT) are driving more and more content through the Internet. Attention spans are shorter than ever, and audiences don't just have more choices — they have greater expectations.
Millennials and Gen Zers are quickly cutting their cords and interacting with content on their cell phones in ways that are radically different than the generations before them. At the same time, these younger audiences are seeking to align their spending with their values. In a 2017 report, Cone Communications found that 94% of Gen Zers believe companies should be addressing social and environmental issues. A further 89% indicated they would rather buy from a company supporting social and environmental issues over one that does not. Like never before, consumers are demanding the companies they engage with make a positive difference in the world, and they are even willing to pay a premium for it.
The corresponding scramble to meet these new demands has thrown the industry into an entirely new era of competition, often blurring or upending the boundaries that once separated entertainment and technology. Because of its flexibility and the fact that it sparks increased audience engagement — both on and offline — SIE is a perfect fit for this new paradigm.
But, despite the critical acclaim of "cause films" during awards season — arguably at least 5 out of the last 10 Oscar® winners for Best Picture were works of SIE — much of Hollywood has been slow to recognize these shifting tides and the rise of this "conscious consumer." As a result, the industry has lost out on many SIE opportunities.
All of this goes to show that Hollywood no longer needs to be wary of issue-driven content. When properly executed, SIE can provide greater access to highly activated and hard-to-reach audiences. And, when we begin to factor in the other massive demographic shift of our time — that populations are, year by year, increasingly diverse — another key aspect of SIE comes into focus: its ability to connect to previously underserved and underrepresented audiences.
According to the most recent UCLA Hollywood Diversity Report, in 2016, diverse audiences bought 54% of the tickets for Captain America: Civil War, the highest-grossing film of the year, and the majority of tickets for five of the other top ten highest-grossing films in that same year. More recently, hits such as Crazy Rich Asians and Black Panther have revealed it's possible, and indeed lucrative, to cater to historically underserved audiences while still holding mass-market appeal.
Diversity sells, and ignoring such stories and audiences is no longer a viable option. Hollywood is leaving money on the table by not delivering content to these demographics — just look at the success of series like Empire, Atlanta, Black-ish, and Fresh Off the Boat, or theatrical juggernauts like Hamilton.
Despite how progressive the entertainment industry may feel as a whole, in some ways it has fallen behind. Changes in consumption models and shifting demographics mean that it's more important than ever for your content to cut through the clutter in order to connect with audiences. This is where SIE can give you a competitive advantage. On the other side of the equation, it can be a real liability if your consumers don't feel you are doing enough — or worse, that you are doing it wrong.
Building a core competency
Many consumers today are familiar with the term "greenwashing" — the deceptive marketing some companies undertake to suggest they are environmentally responsible, without actually doing the hard work to make their businesses and our planet more sustainable.
By contrast, other companies are embracing transparency and tackling the challenges of sustainability head-on, earning the business and loyalty of environmentally conscious customers.
One could make a similar argument for what we might term "screenwashing" in our space — the superficial appearance of an ethical commitment to the greater good, without really integrating the ethos of SIE into your content or organization. Ultimately, such entertainment just leaves audiences cynical and hungry for better content, ripe for the picking by more genuine SIE practitioners.
Entertainment leaders who truly invest in developing SIE as a core competency will continue to build more competitive brands that capture audiences' loyalties and, as a result, their dollars. This will create more enduring, less transactional consumer relationships that in turn effect positive change in the world.
Building SIE as a core competency though takes not only a real commitment, but also a new understanding of this space. For years, studios and production companies have financially supported corporate social responsibility (CSR) via third-party initiatives. However, as we have seen recently through many of the statistics referenced above, it can be hugely profitable, not to mention impactful, to reflect CSR values in your core products — i.e. on screen. CSR and SIE can be closely related and often overlap, but under this new model, your efforts can not only enhance the perception of your brand, but also directly profit your organization.
Despite these efforts — and in line with a greater understanding of our world today — our industry has struggled to match ideals with actions, as the #MeToo, #OscarsSoWhite and TIME'S UP movements have revealed. This has become a critical conversation in Hollywood helping to support the much-needed changes around diversity and inclusion as well.
Exactly how these changes will be implemented, take shape and hopefully blossom is yet to be seen. However, there are those whose work now offers practical steps the industry can take in order to build systemic change. We've spoken to key practitioners in this space, including Dr. Ana-Christina Ramón and Dr. Darnell Hunt — co-authors of the Hollywood Diversity Report — and Cathy Schulman, President and CEO of Welle Entertainment, about the ways in which the industry can and should tackle these issues.
Closing the gap between rhetoric and reality will take time, money, creativity and most of all determined leadership. Consistently generating effective SIE on a global scale will be very challenging, yet no less vital to our industry's future as it is to that of our world.
SIE Key Takeaways
SIE comes in many forms. From digital short form to feature films, television series, plays and virtual reality, the increasing diversity of mediums allows content creators to define their impact first, and then identify the best channels through which to communicate their message. The most impactful SIE is not bound to a particular form — it uses the right tools to raise awareness, to drive engagement and to inspire action.
If you want to make an impact, start with a great story. Good intentions alone aren't enough in the entertainment industry, so creators need to trigger people's deepest emotions if they hope to move them into action. Dramas should captivate, comedies should make people cry from laughing, and documentaries should challenge, inspire and inform viewers. Great SIE can sometimes do all of these things.
When you can make audiences empathize with something they initially felt wasn't relatable, that's the first step toward change.
Don Cheadle, The Power Within
UCLA's Hollywood Diversity Report 2018
Films with casts that were from 21% to 30% minority enjoyed the highest median global box office receipts and the highest median return on investment, while films with the most racially and ethnically homogenous casts were the poorest performers.
Effective SIE requires building strong partnerships. It's imperative to collaborate with the key people and organizations working on your issue. These partners are often present long before you arrive and will remain long after you leave. They can therefore offer critical knowledge around which to build your work, plus access to other engaged shareholders and stakeholders working in the same space. By leveraging partnerships — and any resulting networks — you can achieve a multichannel approach to development and distribution, which is vital to creating impact.
Outcomes matter. If we want the field of SIE to grow, we have to learn from our mistakes as well as our achievements. Identifying the right measures of success is essential if you want to understand your impact, replicate it, and increase it in the future. As most businesses discover sooner or later, it's hard to improve what you don't measure.
Embracing diversity on and off screen is key. In this highly fractured, ever- changing entertainment landscape, it is no longer just the big three networks clamoring to provide content to the lowest common denominator. It's now more important than ever before to break through to underserved talent seeking new opportunities and overlooked audiences who are hungry for content that's tailored to them.
SIE is not a fad — it's the future. Research reveals that young audiences increasingly prefer companies, products, services and brands that make a positive impact in the world. The idea of a triple bottom line — evaluating your company's performance from a social, environmental and financial perspective — matters in the entertainment industry too, especially at a time when delivery platforms and loyalties are in flux like never before.
For companies to sustain their influence among consumers and talent alike, they must take a holistic view of what they create and what they can offer.
Looking ahead
I was seven years old when the movie Star Wars came out, and I made my parents take me so many times —16, in total — that they just started dropping me and my older brother off at the theater and having us walk home. Week after week, I just couldn't get enough of Luke, "the hero's journey," and how he managed to save the galaxy. I became so captivated by movies in general. I felt they offered me the most meaningful opportunity to make a difference in this world. Even if I never had the chance to save an entire galaxy, at least I could help tell stories that made the world a better place. And at its simplest, this remains the central opportunity of SIE.
In an era of unprecedented global challenges, our industry has an urgent responsibility to make a significant, more catalytic impact on the real world. Together, we must all rise to the challenge. May your best work, and our greatest impact, lie ahead.