This past year's Participant screenings have included:
The Price of Free
Q&A with director Derek Doneen
Hidden inside overcrowded factories around the world, countless children are forced into slave labor due to rising global demands for cheap goods. With the help of a covert network of informants, Nobel Prize winner Kailash Satyarthi and his dedicated team carry out daring raids to rescue and rehabilitate imprisoned children. Using hidden cameras and playing the role of buyers at the factory to gain access, we watch Kailash rake on one of his most challenging missions to date: finding Sonu, a young boy trafficked to Delhi for work who has been missing for eight months. Now his father dreams of Sonu coming home.
The Boy Who Harnessed the Wind
Special Screening at the 2019 Spark Change Summit
Young William Kamkwamba lives with his family in rural Malawi, where he attends school regularly and shows great aptitude for his studies. Yet after land development and poor weather lead to a meager harvest, famine strikes the village, alarming the community and forcing William to drop out of school when his father (Chiwetel Ejiofor) can no longer afford the fees. Determined to find a way out of the life-threatening situation his family is facing, William sneaks into the school library to research—and soon conspires to build a windmill pump to irrigate the land. Caught between his father's close-minded skepticism and the difficulty of creating a machine out of bicycle parts and scrap materials, William races against the clock to fight for his community's survival.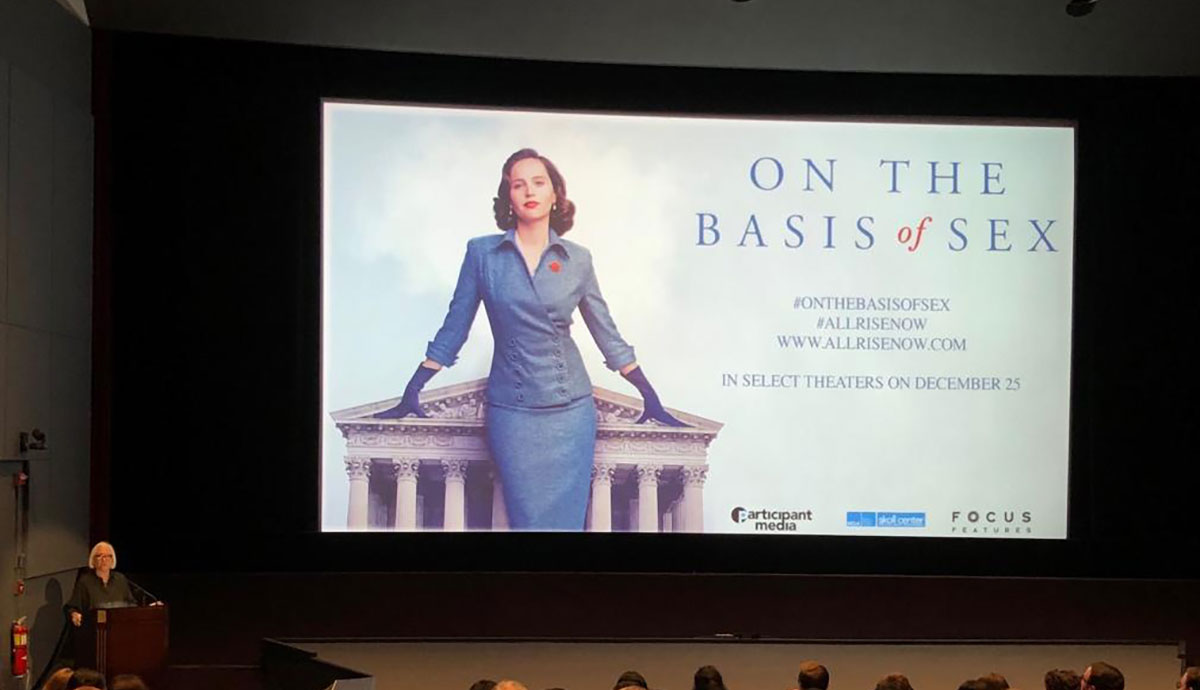 On The Basis of Sex
On the Basis of Sex is inspired by the true story of a young Ruth Bader Ginsburg – then a struggling attorney and new mother – who faces adversity and numerous obstacles in her fight for equal rights throughout her career. When Ruth takes on a groundbreaking tax case with her husband, attorney Martin Ginsburg, she knows it could change the direction of her career and the way the courts view gender discrimination. The film also chronicles the storybook-like romance between Ruth and Marty, a partnership that succeeded both personally and professionally. On the Basis of Sex stars Felicity Jones as Ruth Bader Ginsburg, and Armie Hammer as Marty Ginsburg, Ruth's husband and legal partner.
Just Mercy
Co-hosted with Bruin Film Society
Q&A with human rights attorney Nazareth Haysbert
A powerful and thought-provoking true story, "Just Mercy" follows young lawyer Bryan Stevenson (Michael B. Jordan) and his history-making battle for justice. After graduating from Harvard, Bryan had his pick of lucrative jobs. Instead, he heads to Alabama to defend those wrongly condemned or who were not afforded proper representation, with the support of local advocate Eva Ansley (Brie Larson). One of his first, and most incendiary, cases is that of Walter McMillan (Jamie Foxx), who, in 1987, was sentenced to die for the notorious murder of an 18-year-old girl, despite a preponderance of evidence proving his innocence and the fact that the only testimony against him came from a criminal with a motive to lie. In the years that follow, Bryan becomes embroiled in a labyrinth of legal and political maneuverings and overt and unabashed racism as he fights for Walter, and others like him, with the odds—and the system—stacked against them.